Destination Aruba is MilitaryFares.com location for vacation travel in this edition of our travel series.  A Caribbean island that is loved by many and a favored spot for year round vacations, it is definitely where you need to be.
Known for its sunny days, white sand beaches and perfect 80 degree weather, it is the perfect place to relax and recharge.  From its scenic beach views to its beautiful Arikok National Park, Aruba is a great place to experience life in variety.  It has something for romantics and adventurers alike.
Things to Do in Aruba
You could go exploring with your camera, capturing lifetime moments.  You could go scuba diving for treasures or snorkeling to discover the beauty hidden just below the surface.  Then, there's windsurfing and kitesurfing for the more adventurous.  Or how about trying that lying around the beach on a moon lit night –taking it all in activity, for the not-so-adventurous.  Yes, that is an activity too.
Food
Are you ready for some food?  It is said on Aruba.com that over 90 nationalities influence Aruba's cuisine.  Everything from burgers to local dishes like gouda-glazed Keshi Yena (Chicken Stuffed Cheese), Calamari, Keri Keri, and Curry Goat  …or chicken —you will enjoy at restaurants found on the island.
More About Aruba
Want to know more?  Here are some other interesting facts about Aruba: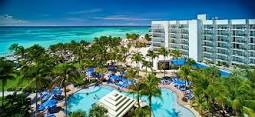 It's an independent country, Part of the Kingdom of  Netherlands with approximately 100,000 people.
It is exceptionally diverse with more than 90 nationalities represented on the island.
The island is 21 miles long so driving trips will be short, but the white beaches are very nice. Aruba is located in the Southern Caribbean Sea, and is about 17 miles north of Venezuela.
When packing for your trip, you should plan to bring your own personal items, medicine and toiletries you may be fond of because you might not be able to get particulars on the island.
Your cell phone should work on the island but you should be aware that cell phone roaming charges could apply.
If you decide to use Wi-Fi, ask the price of what it will cost to use it. Don't take anything for granted—if there are charges or fees, they could add up quickly.
Though not a U.S. Territory, U.S. currency is widely used and exchanging to local currency is often not necessary.  Many hotels offer military discounts and vacation packages!  There are several branded hotels on the island like the Radisson, Holiday Inn Resort, Hyatt Regency and Marriott.  There are also local places like the Bucuti & Tara Beach Resort.  At the Bucuti & Tara you get free breakfast, Wi-Fi and no surprise fees.  However, this is an adults only beach resort… so a great place for honeymoons, romantic evenings and getaways.
As always, you should check our site at www.MilitaryFares.com to see what's available.  You know we work hard to provide the best ticket prices available!