Austria (not to be confused with Australia—which will be another story) is our next stop.  Yes, it's time to look at another great travel site.  If you are looking for a picturesque and historic location outside of the U.S., then Austria has to be one of the places on your bucket list.  Said to be home to Beethoven, Mozart, Strauss and Freud, this country is filled with inspiring scenic views that just make you want to sit, think and do big things.  Vienna is the capital city and at present, also the largest city.
One of the great things about traveling to Austria is that you might also get to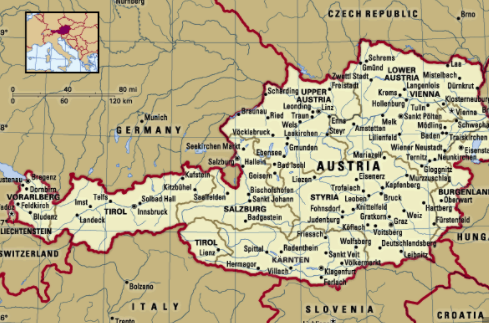 visit the other nations/countries surrounding it.  Places like Italy, Germany, Hungary, and Switzerland are all right next door.  So, there would be a lot to fit into a vacation there.
But, if you just want to stay in Austria, your time would still be well spent.  There is lots of hiking, eating and site-seeing to do, including going to the zoo.  Oh, please, let's not forget about skiing.  Even if you don't ski, you at least have to try them on while in the Alps.  …You just have to.   In the Resources section at the end, we have listed a few resources for you along with a Wikipedia research page to get you started.

Because Austria has such a full history, you might want to do some reading and research before you plan your trip.  That way you won't feel overwhelmed once you get there about what to see or do.  And, actually that holds true for any trip.  The more you know about the area you intend to visit, hopefully the less displaced you will feel when you get there.  The idea about traveling is to have fun even if there are hiccups along the way.  Well, hopefully you will have a great beginning to your 2018!  Safe travels! And check militaryfares.com for tickets!
Resources:
Google Wikipedia Page:
https://www.google.com/search?q=Austria&rlz=1C1CHZL_enUS745US745&oq=Austria&aqs=chrome..69i57j0l5.2094j0j8&sourceid=chrome&ie=UTF-8
FTD Facts YouTube Video (Austria): The Most Surprising Facts About Austria
YouTube Search Collection of Austria Videos: https://www.youtube.com/watch?v=WxFR7FYPdsU