How close? The short answer without authorization, is: You can get all the way to the Front Gate Warning Signs of Area 51 without any problems. Unfortunately, the front gates are about 15 miles from the base.   The Nevada Desert is the home of the "secret" air force base. And, it's miles away from everything.  Yes, this post, we'll be talking about the Air Force Base called Area 51… and the area surrounding it.
When I first began research for this article, I was surprised to see that there were several websites on the topic.  Silly, but I thought there would be way less information than I found.  I guess there are a lot of curious people wanting to know "what's really out there" (cue the X-Files music).  Area 51 is officially part of Edwards Air Force Base, located in the Nevada Test and Training area.  After all these year, the general public still doesn't really know what goes on there, but at least now—we know that it exists.
Location
It is said to be 83 miles from Las Vegas and is close to the small town of Rachel, Nevada.  When we say small… we mean small.  According to their website (that has had 772, 815+ visits), the town itself only has a population of 98.  Yep, Ninety-eight.  The landing page of the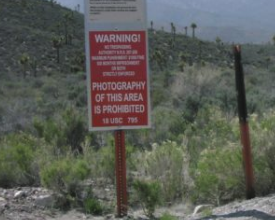 site says "The gas station in Rachel is closed… and the nearest stations are 50 miles away.  It sounds like you would be better off hanging out in Las Vegas, roll a few dice, fill up the tank, drive out to Rachel and Area 51—hang out a bit; then cruise back to Vegas.  Whew… sounds like a busy day but could probably be done in a few hours.  Just go down E.T. highway, and you'll be on your way!  Yes, Nevada State Highway was officially named the Extraterrestrial Highway in 1996.  The whole area, needless to say, is a great tourist area.  After all, it's not every day you might get a chance to see a UFO.   However, with that population of only 98 though… Rachel truly seems to be "a great place to visit.  –But only a few want to live there."  Are you ready to visit?  MilitaryFares may have cheap flights  to get you there! With our military discounts on leisure flights, we might be able to save you money.  Give us a try and see.  Safe Travels!  Oh, and be sure to check out the resource links below… there's a lot of great info there!
Resources:
YouTube Video—Visiting Area 51:  https://www.youtube.com/watch?v=vqyiab3vprw
Wikipedia Info:  https://en.wikipedia.org/wiki/Area_51
Rachel, Nevada: www.rachel-nevada.com/
DreamLandResort Site: www.dreamlandresort.com
Landlopers: https://landlopers.com/2016/10/02/area-51