I recently saw two trips listed for Columbia, South Carolina on MilitaryFares.com and thought to myself, "…hmmm, I want to check that out too", and here we are.  In this post, we'll visit Columbia, South Carolina,–a city on the rise.
I say this because there has recently been an effort to bring a renaissance to the area, and renovations are bringing new life into the city.  With a population of around 134,000, Columbia is increasing in business and activities.  From the Riverbanks Zoo to museums to the Congaree National Park and other parks in the area, visitors will find plenty to do to occupy their time while on vacation or after work on business trips.  If you are looking to pick up the pace, you can always find out what's going on at the Colonial Life Arena or see what sporting event might be happening.  Columbia also has three rivers (Saluda, Broad, and Congaree), and Lake Murray to enjoy as well.  Great hotel accommodations are in the area and the Columbia Metropolitan Airport is only 6 miles from Columbia's central business district.
Columbia's weather/climate is nice as well.  Although it can get cold, normally the temperature ranges from mid-30's to upper 60's during the winter months, and warm to hot for the rest of the year.  You can enjoy some of those warm days and evenings dining at local restaurants, or gathering at pubs and bars with friends.  Or, you could check out The Three Rivers Greenway—a river walk themed around the rivers I mentioned earlier.
Columbia is also the host city for Fort Jackson, South Carolina.  With a motto of "Victory Starts Here!", it too has undergone a growth spurt and is now one of the largest military facilities in the nation.  It was originally established in 1917 as Camp Jackson.  And, over the years, even though it had been slated several times for closure, it has survived and has become a thriving military facility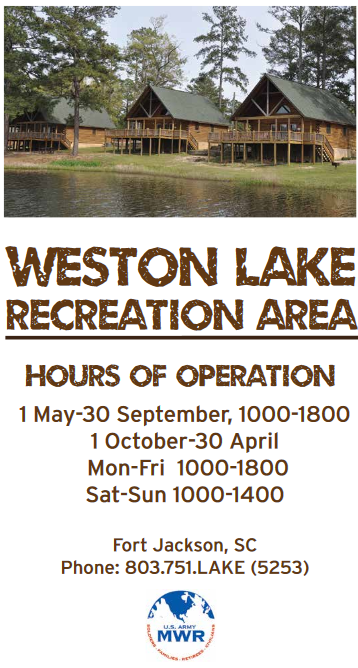 for training for many of our nation's Soldiers.
If you visit the post while in Columbia, be sure to check out the Fort Jackson MWR (FMWR).
That's a great place to see what's happening on post and where all the on-post adventures are.  Fort Jackson has a variety of things to do.  There is bowling, site-seeing, fitness, boating, and RV/camping at Weston Lake.  We have attached a brochure found on the site; but we also recommend that you call to find out the latest information as part of your trip planning.  From Fort Jackson to Columbia, SC is about 7 miles.  So it won't take long at all to travel between the two destinations.
Note: There was flooding in Columbia, South Carolina over recent years; however, the area still seems to be on a growth trajectory despite the misfortunes. There are many sites to check for updates and as always if you need tickets, don't forget to check www.MilitaryFares.com !
Resources:
Visitor Center Info: http://www.columbiacvb.com/visitor-information/visitors-centers/
Welcome to Columbia SC Video #1:   https://www.youtube.com/watch?v=0f-G7EyzFHU
Discover South Carolina.com : http://discoversouthcarolina.com/products/25772
Wikipedia page: https://en.wikipedia.org/wiki/Fort_Jackson_(South_Carolina)
A Fort Jackson website: http://jackson.armylive.dodlive.mil/
Fort Jackson MWR: https://jackson.armymwr.com/us/jackson
Weston Lake Rec Area Brochure:  https://jackson.armymwr.com/files/3714/8615/9723/Weston-Lake-brochure.pdf