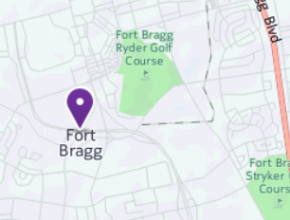 Most military people might not think of considering the place where they live and work as an interesting vacation spot, but perhaps you should.  This week, we'll look at Destination: Fayetteville, North Carolina.  Fayetteville is definitely a military town.   It is the host city to both Fort Bragg and Pope Field/Air Force Base; and is a great place to have a 'staycation'.
Fayetteville is known as one of the most diverse cities in the US, and is the sixth-largest city in North Carolina.  There are several family friendly spots and plenty of things to do.  One of the most visited is the Airborne and Special Operations Museum.  It highlights the history of the Airborne Corps and Special Operations from 1940 to present.
Hungry for more museums? Well, at the Museum of the Cape Fear Historical Complex, visitors can learn about North Carolina History. For a more interactive experience, take your young ones to the Fascinate U Children's Museum. They can immerse themselves in make believe and explore careers at this "just for kids" experience.
 Other Things to Do
If museums aren't your thing, then take your family for some fun touring Fort Bragg or head out to Auman Vineyards to taste the state fruit of North Carolina, the Muscadine grape. More athletic guests might enjoy playing paintball at the Black Ops Paintball. Perhaps you want to hang out at the Zipquest Waterfall & Treetop adventure. This outdoor exploration of Carver Falls is a breathtaking and thrilling experience. Visitors can coast and revel in the beautiful view of their surroundings on zip lines stationed all around the area or check out the sites while walking on suspension bridges. There is even a night tour that is not for the faint of heart. But the best part…there are military discounts for this unique experience!
Now on to the nightlife! At any given time, there are many things to do or see in Fayetteville. For example, comedian Kat Williams will be performing at PNC arena at the end of March and Kevin Hart in May. Maybe you want music? Then catch a concert with the NC Symphony orchestra or the latest hot band that comes through town.
 Fayetteville has a thriving nightlife.
If you are military personnel, there are even places that offer discounts or cater more to military personnel. According to militaryavenue.com, which specializes in listing goods and services for military personnel, there is a wide range to choose from. There are comedy clubs, dance clubs, sports bars, pool rooms and even a tobacco and smoke shop. No matter what your taste is, there is something in Fayetteville for you.
Hungry from all this activity? There are of course lots of chain restaurants and "mainstream" restaurants in Fayetteville. However, there are some restaurants that are unique to Fayetteville that aren't necessarily on the beaten track, so to speak. Per Movoto.com here are the top 15.
Blue Moon Café – Specialty: Nachos
Grilled Ginger – Specialty: Vietnamese cuisine
Marquis Market – Specialty: Pastries
El Aguila Azteca – Specialty: Mexican
The Fried Turkey Sandwich Shop – Specialty: Fried Turkey
Awo's – Specialty: West African cuisine
Huske Hardware House – Specialty: Pub food and draft beer
Sherefe's – Specialty: Greek cuisine
The Coffee Scene – Specialty: Gelato
Elizabeth's Pizza – Specialty: Hand tossed pizza
Wasabi – Specialty: Sushi
New Deli – Specialty: Candied Fruit
Off the Hook – Specialty: Specialty Tacos
Bubba's 33 – Specialty: Burgers
Shalimar Tandoor Grill and Bar – Specialty: Variety lunch buffet (example Goat Biryani)
So next time you're planning a vacation, think  'Fayetteville'.   Do something out of the ordinary. Have some fun!  …oh, and check out site www.MilitaryFares.com for the best price for tickets!
References
www.movoto.com/fayetteville-nc/best-foods-in-fayetteville/
www.militaryavenue.com/Fort+Bragg/421/Bars+-+Pubs/151/Listing.aspx
www.scuppernongs.com/index.html
http://armywife101.com/2014/04/10-places-visit-around-fort-bragg-nc.html
http://eventful.com/fayetteville/events/categories/singles_social#!page_number=2&category=singles_social