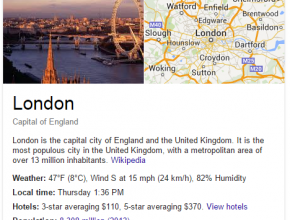 I was looking for the next destination to write about and London, England came to mind.  I thought that if you ever had the chance to  travel overseas—London, England would be a great place to visit.  With a metropolitan population of over 13 million, it is the capital city of both England and the United Kingdom (UK).
If you plan to go in February, the average temperature should be in the 40's and during the summer (July), temperatures average in the 60's.  But, like all weather, those numbers are subject to change.
Need a few things to do while there?  Well, you could visit museums.  There's the British Museum, the Design Museum, the Natural History Museum, and the London Transport Museum to name a few of the well-known ones.  They also have kids' museums and other special interest museums.  Or, you could go to the London Theatre, catch a musical or go on a sightseeing tour.  Even if you are on a tight budget, there are many free attractions to attend as well.  Just google 'free stuff to do in London England' like I did… and see all the amazing things that appear.
Unique for Service Members
Anything unique for US Service Members in London?  You bet!  The Victory Services Club is a facility that is open to allied forces.  Among other things, the web site states that the Club was founded in 1907 to promote "esprit de corps" among retired Armed Forces of all ranks.  Another place to try is the Union Jack Club.  The Union Jack Club is over 100 years old.  The founder was Ethel McCaul.  She was a Royal Red Cross Nurse.  Part of her vision was to provide a haven for service members and their families in the Capital whenever they visited London.
Now, let's talk about how to get there.  Did you know that our www.MilitaryFares.com  site has a tool that helps find the best negotiated rate for Active Duty Military members and their families? And, if you need a rental car or hotel room, we can help find those too!  Go to the site and try it out today.  Then, tell all your buddies to try it too.  We want to become your go-to travel site for the best negotiated military fares!
Sources:
VisitLondon.com
Google
WikiPedia