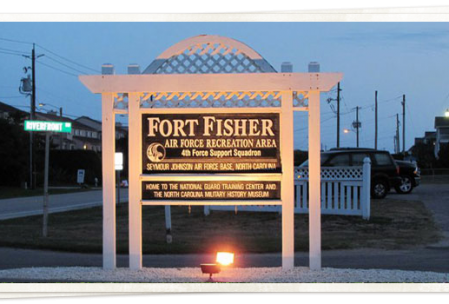 In last month's post, we mentioned a few previous destinations that MilitaryFares.com had written about but neglected to mention RV Parks and Campgrounds also available at those locations.  This month and going forward—we'll make an effort to be more inclusive of such facilities; starting with Fort Fisher Air Force Recreation Area on Kure Beach in North Carolina.
Once an army fortification for the south, Fort Fisher was strategically located between the Cape Fear River and the Atlantic Ocean.  Back then, it meant that the southern army had access to both inland and ocean waterways.  Now, it's just really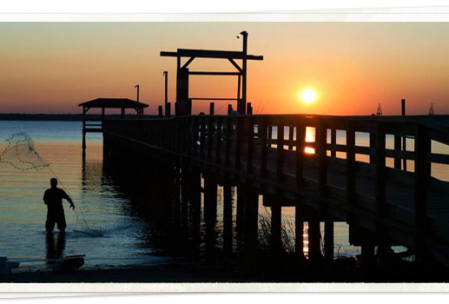 cool that you can access both the river and the ocean in a matter of minutes.  Meaning, you can literally walk, within a few minutes, from the pier near the museum exhibits of tanks and helicopters on the Cape Fear River side of Fort Fisher's Recreation area to the Atlantic Ocean beach using public access points between the beach front properties of Kure Beach.  I'd call that the best of both worlds for those of you who like rivers as well as oceans.
The Facility
For those of you who are history buffs and like to explore historic places, know that Fort Fisher is one of those locations… AND you get to enjoy the beach after you're done with touring the historical sites!  You can read more about Fort Fisher and other locations by visiting the site: North Carolina History Project.
Now managed by the Air Force as a Recreation Area, Fort Fisher is available to Active Duty Military, Reservists, National Guard, Coast Guard, Retired Military and DOD Civilians.  They have newly renovated or replaced much of the guest accommodations—with 1, 3, and 4-bedroom cottages and mobile home units for short term stays.  Along with the additional RV Park and Campgrounds, they offer a Beach House Bar & Grill, a Recreation Center –which has various activities and games available, and rental equipment for outdoor activities!   You should visit the official website http://www.ftfishermilrec.com for more details.
If you want to venture away from the facility, you can always visit Kure Beach, Wrightsville Beach, the NC Aquarium, Fort Fisher Civil War Museum or take a drive to visit Wilmington, NC and all it has to offer.  There are plenty of places to grab a bite to eat and take in all the sights and scenery.   And, if you really feel like driving, you can always take a two-hour trip to Myrtle Beach and return to Fort Fisher at the end of the day!  So, if you're looking for variety and convenience, Fort Fisher has a lot of possibilities to add to your vacation.
Note: If you plan on staying at Fort Fisher, it is recommended that you call ahead to make sure that accommodations are available.  (Even if they are not, however, the trip to the area and the easy access to the beach, the river, and other areas around the facility will make the trip well worth the journey.  (They also have other hotels and motels in the area that you might be able to find at reasonable rates if you plan ahead.  As always, if you need tickets, check www.MilitaryFares.com for flights to the Wilmington International Airport, the closest airport to Fort Fisher; or for rental car prices if you decide to drive!)