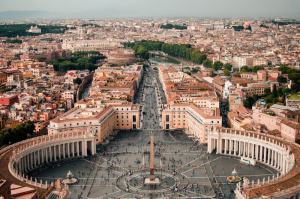 There are hundreds of places you can visit with military airfares but the one that you should really be considering this winter in Rome. This may sound surprising, after all, most people visualize Rome in the summer, sitting outside a café with a gelato. But, there are several good reasons to visit Rome between Christmas and Easter.
Fewer People
The Christmas tourists have gone and the holy visitors don't arrive until Easter, this is the quietest period in Rome and when you'll be able to appreciate all the sights for less money and with less waiting.
More Time
You'll have more time to take in the sights but the people of Rome will have more time to stop and talk; in fact, they will welcome the opportunity to exchange stories.
Of course, you'll need to take clothing to keep you warm and you may even need to deal with a little rain. But the effort will be worth it when you check out the following places and enjoy being able to actually see each place properly.
The Old Rooms Of Rome
This is actually a collection of 24 apartments that have been built inside a 17th Century Palazzo Rhinoceros. The apartments are modern and beautifully furnished but there are also plenty of historic touches which have been left in place.
Visit out of season and you'll find the rates are affordable and the setting a magnificent way to start each day.
The Galleria Borghese
Reserve your ticket in advance and you'll be certain of the opportunity to see the Picasso sculpture exhibit which only allows 360 guests per year!
There won't be a crowd in the winter; you could even feel like you have hired the space just for your own pleasure.
Check Out The Vatican Museums
These are some of the most popular attractions in the city but the size of the crowds is noticeably smaller in the first three months of the year. If you're feeling really ambitious you can pay a small extra charge and be the first person through the doors; you will need to be up early though!
Il Marchese
This is credited as Europe's first amaro bar. Amaro is a slightly bitter after-dinner digestif. However, this bar has over 500 different labels for you to choose from, ensuring you really get to know and perhaps love this traditional drink.
Hotel Vilon
If the apartments at the Old Rooms Of Rome don't appeal then you should check out the Hotel Vilon. In the past, it was the residence of the Borghese family and it became a school for girls. In March 2018 it opened as a hotel and is just a few minutes from the Spanish Steps.
The design is intimate and sumptuous; just the treat you need after your long military airfare flight.
Of course, there are many other attractions in Rome that will ensure you are kept bus for as long as you wish to stay. In fact, you'll be grateful for the cheap military airfares as you'll probably want to return to Rome again and again.