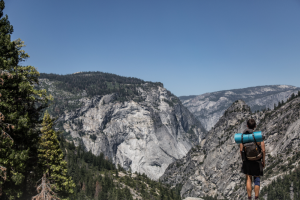 You can fly with a military discount to virtually any destination in the country and even across the world. This means that you can really appreciate some of the best National Parks in the country. But, if you really want to make the most of your ability to fly with a military discount you need to read these tips on visiting National Parks:
Sleeping Bear Dunes, Michigan
Check this place out in the fall to admire the stunning color of the falling leaves. Surprisingly you'll find it's still warm enough to swim in the lake, a surreal experience.
Carlsbad Caverns, New Mexico
Try visiting in the spring or early summer to get a real glimpse of a desert coming to life. Not only are there hundreds of cacti and blooming flowers but you'll also see plenty of bats.
Hawaii Volcanoes
Hawaii is famous for its surf and beaches but it is also home to active volcanoes and in excess of 155 miles of hiking trails! Not only will you see the smoke rising from the ground you may even get to see the small streams of lava that is constantly rolling down the side of the volcanoes.
You should also check out the sun rising over Kilauea Caldera as you sit on the Jaggar Museum overlook; it's one sight you'll never forget.
Olympic Park, Washington
You'll feel like you're visiting 3 distinct places in this National Park. It's an opportunity to see glacier-capped mountains, the coast, and vast forests all at the same time! But, there are very few roads through the park, be prepared for a long trip.
Lake Mead, Arizona
Be prepared for changeable weather as this park has mountains, valleys, lakes, and even canyons. Swimming is only really possible in the summer but you should wear a life jacket which can be got for free at shops in the area.
Acadia, Maine
There are 45 miles of carriage roads here that were created by John D. Rockefeller over 100 years ago. These are perfect for snowshoes and even skiing. The park is visited by more than 3.3 million people each year; you may prefer to visit at the beginning or end of the season to avoid crowds.
The Smokies, North Carolina
You'll be spoilt for choice regarding what to do here. But, you should remember that as beautiful as the fog over the mountains looks, it does make it very easy to lose your way.
There are hundreds of trails to explore but you should make time to check out the quieter paths on Newfound Gap Road.
Shenandoah National Park, Virginia
This park has over 500 miles of trails designed for hikers. You can see amazing waterfalls and hike to the top of Hawksbill Mountain to see awe-inspiring views across the Shenandoah Valley and Piedmont.
Redwood, California
This park officially has the world's tallest trees but the mistake many people make is to drive straight through the park on the main highway. If you pull off onto one of the side roads you'll see a whole lot more of this park.
Yellowstone, Idaho
This is a very popular park, you'll want to visit it in the fall or spring to avoid crowds but you will need to be prepared for the cooler temperatures. This is especially true if you intend to camp.
It doesn't matter which of these or the other magnificent parks you decide to visit. You can fly with your military discount and experience the beauty of these places in just a few days if that's all the time you have available. It is one experience you'll never forget.