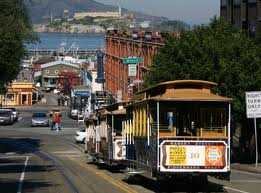 Head back to the continental U.S. on your next leave, using a discount airline ticket to travel from Honolulu to San Francisco. On December 12, the fare is just $466.89 round trip, a price that is difficult to beat. Since airfares change so quickly, make your reservation now or you could miss the savings this holiday season.
San Francisco ranks as one of the top tourist destinations worldwide and is home to famous landmarks like the Golden Gate Bridge and Chinatown. November to April is considered the rainy season and high temperatures average 58 to 64 degrees. This city has a rich cultural history, major league football and baseball teams, and acres of recreational areas for amateur sports.
With a military discount, airline ticket prices are very reasonable. Travelers can combine this with a great hotel deal for even more savings. A great hotel town, San Francisco offers historic lodging like Hotel Vertigo in Union Square, where the Alfred Hitchcock thriller, Vertigo, was filmed and the magnificent Palace Hotel, which opened in 1875.
The California Academy of Sciences in Golden Gate Park is a great San Francisco attraction. It boasts a three-story rainforest, living coral reef, huge planetarium including retractable ceiling, and a living roof covered with native plants. After attending some of the shows at the museum, head to one of the trendy restaurants nearby, including A16 in the Marina area or Nopa in Haight, or splurge and dine at Spruce in Pacific Heights.
Cheap airline tickets for military make it possible to visit San Francisco from Honolulu for just $466.89 round trip. Travelers can choose from many lodging options, visit multiple attractions, enjoy great entertainment, and do some shopping at one of the best destinations in the U.S. Click here to access this excellent airfare deal while it is still available.