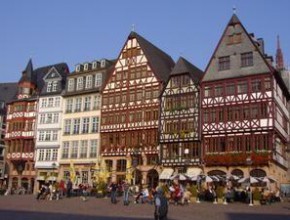 You do not regularly find a military discount airline ticket for travel to a foreign land. On August 15, a $964.68 fare is posted for travel between San Diego, California and Frankfurt, Germany. Now is your chance to experience Germany at a wallet-friendly price. Since airfares change frequently, book now or you may miss this deal.
Within the next two weeks, temperatures are expected to be in the low to mid 70s in Frankfurt. There is little rain in the forecast, making it perfect weather for sightseeing. For centuries, this city has been the financial hub of Germany but as the second largest metropolitan area in the country, there is also plenty for tourists to enjoy.
Cheap airline tickets for military allow you to enjoy excellent authentic German cuisine. Altes Zollhous is a reasonably priced restaurant located in outer Frankfurt. For the ultimate in extravagance, Maintower atop a skyscraper in city center is the place to go. Stay at the Carathotel Frankfurt Airport, connected to the airport, for four nights and save 30 percent on accommodations.
Set aside some money to visit Palmengarten botanical garden, one of the top-rated attractions in this city. The plant collection is large enough for you to spend the entire day there enjoying nature. If military discounted airline tickets are purchased for the entire family, add the Senckenberg Natural History Museum to the itinerary. It features a fabulous dinosaur exhibit and an entire floor displaying stuffed animals.
Research the many other things to do in this wonderful city, such as Saint Bartholomew's Cathedral, the Old Opera House, numerous festivals, and culinary delights. Techno music traces it roots to Frankfurt and there are plenty of nightclubs for music lovers to enjoy. Click here to book $964.68 travel between San Diego and Frankfurt for an exciting vacation.